Existing-Home Sales Slip, but Inventory Stirs
Posted by David Leonard on Tuesday, July 24, 2018 at 7:21 PM
By David Leonard / July 24, 2018
Comment
Barely budging against imbalanced inventory, existing-home sales slipped at the start of summer, the National Association of REALTORS® (NAR) reports. Activity in June declined 0.6 percent to 5.38 million, down 2.2 percent from the prior year; however, inventory increased 4.3 percent to 1.95 million, and is 0.5 percent higher than the prior year—the first increase year-over-year since June 2015.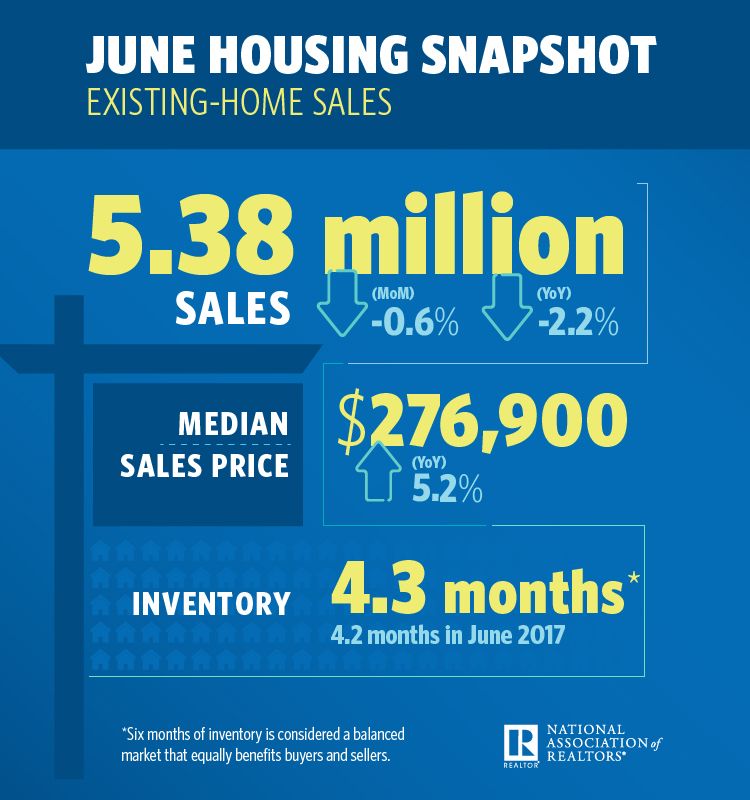 "It's important to note that despite the modest year-over-year rise in inventory, the current level is far from what's needed to satisfy demand levels," says Lawrence Yun, chief economist at NAR. "Furthermore, it remains to be seen if this modest increase will stick, given the fact that the robust economy is bringing more interested buyers into the market, and new-home construction is failing to keep up.
"There continues to be a mismatch since the spring between the growing level of homebuyer demand in most of the country in relation to the actual pace of home sales, which are declining," Yun says. "The root cause is without a doubt the severe housing shortage that is not releasing its grip on the nation's housing market. What is for sale in most areas is going under contract very fast, and, in many cases, has multiple offers. This dynamic is keeping home price growth elevated, pricing out would-be buyers and ultimately slowing sales."
Currently, inventory is at a 4.3-month supply. In June, existing homes averaged 26 days on market, two days less than the prior year. All told, 58 percent of homes sold were on the market for less than one month.
In June, the metropolitan areas with the fewest days on market and the most realtor.com® views, according to realtor.com's Market Hotness Index, were Midland, Texas; Columbus, Ohio; Boston-Cambridge-Newton, Mass.; Fort Wayne, Ind.; and Boise City, Idaho.
The median existing-home price for all house types (single-family, condo, co-op and townhome) was $276,900, a 5.2 percent increase from the prior year. The median price of an existing single-family home was $279,300, while the median price for an existing condo was $258,100.
Existing-home sales in the single-family space came in at 4.76 million in June, a 0.6 percent decrease from the 4.79 million in May, and a 2.3 percent decrease from the 4.87 million the prior year. Existing-condo and -co-op sales came in at 620,000, no different from May, but a 1.6 percent decrease from the prior year.
Twenty-two percent of existing-home sales in June were all-cash, with 13 percent by individual investors. Three percent were distressed.
Two of the four major regions in the U.S. experienced higher sales: the Midwest, increasing 0.8 percent to 1.27 million, at a median $218,800; and the Northeast, increasing 5.9 percent to 720,000, at a median $305,900. There were no gains in the South and the West, with sales in the South down 2.2 percent to 2.25 million, at a median $237,500, and sales in the West down 2.6 percent to 1.14 million, at a median $417,400.
Additionally, first-time homebuyers comprised 31 percent of existing-home sales, no different from May.
"REALTORS® throughout the country continue to stress that there's considerable pent-up demand for buying a home among the millennial households in their market," says Yun. "Unfortunately, they're just not making meaningful ground, and continue to be held back by too few choices in their price range, and thereby missing out on homeownership and wealth gains."
"The modest uptick in new listings last month is perhaps good news for would-be buyers who are still in the market after a highly competitive spring buying season," says NAR President Elizabeth Mendenhall. "As summer winds down, the number of home shoppers begins to decrease. Listings are still scarce—especially for entry-level homes—but patience may yield a positive result for those looking to buy in the months ahead."
For more information, please visit www.nar.realtor.

For the latest real estate news and trends, bookmark RISMedia.com.
The post Existing-Home Sales Slip, but Inventory Stirs appeared first on RISMedia.