THE STATS APRIL 2023
Posted by David Leonard on Thursday, April 6, 2023 at 6:02:04 AM
By David Leonard / April 6, 2023
Comment
To show folks if the market is turning and by how much, I like to run the stats monthly, and this month I thought I would share. First, a few definitions....
Price per foot: this is how we gauge whether property values are going up or down. Using the median price - a favorite for the news media - is misleading.
Months of inventory: The most important number that indicates where prices are going. if this number is high (above 6), there is a downward pressure on prices. If it is low (below 5) there is an upward pressure on prices. It's low now, but the prices are stabilized by the higher interest rates. Be aware that the closer this number is to 5-6 the lower the price pressure, the further from 5-6 the greater the price pressure move.
Days on Market: this is a leading indicator as to where Months of Inventory is going to go in the future. If it is going up, likely inventory will increase, if it is going down inventory will likely decrease.
This chain of numbers is always consistent: Days on Market affects Months of Inventory which affects Price per foot.
This report is on San Francisco County - the trends in SF are mirrored in the other counties, although SF has a higher price drop than the remainder of the Bay Area.
Price Per Foot (down 16.8% from last year at this time)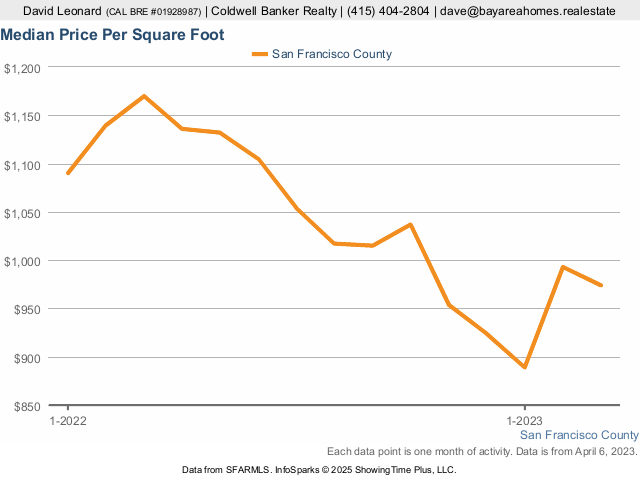 Months of Inventory (up 4.3% from this time last year)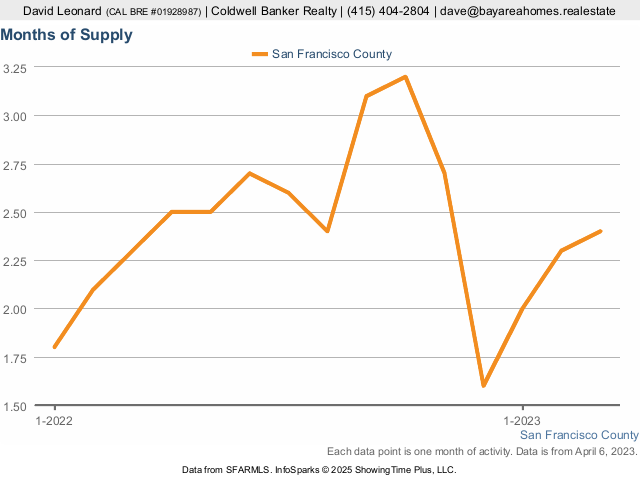 Days on Market (up 84.6% from this time last year)
A few notes about the stats: inventory goes up in spring, falls in summer, goes up again in fall, and falls in winter. Increasing inventory in April is not a surpise. What is a surprise is that there is so little of an increase. The number of active listings is off about 30%. The inventory move generally moves Months of Inventory up a bit in spring, but it is important to note that months of inventory is at 2.5 - far below the 5/6 months of inventory that presupposes no upward or downward pressure on prices. Still, the interest rate is artificially suppressing what would normally be a price rise with low inventory. Days on market is higher than last year - no surprise, the interest rate was super low then - but it still seems to be clipping along at 21 days. The historical 10 year average is 24 days.