Downtown/North Beach Homes for Sale
Included below are homes for sale in Downtown/North Beach. If you would like more information on any of these Downtown/North Beach real estate listings, just click the "Request More Information" button when viewing the details of that property. We can provide you with disclosures, past sales history, dates and prices of homes recently sold nearby, and more.
And, if you haven't already, be sure to register for a free account so that you can receive email alerts whenever new Downtown/North Beach listings come on the market.
Jump To: Neighborhood Information
Downtown/North Beach
September 26, 2023
$1,082.75
Avg. $ / Sq.Ft.
$1,790,000
Med. List Price
Downtown/North Beach (District 8)
Available homes follow map and neighborhood info...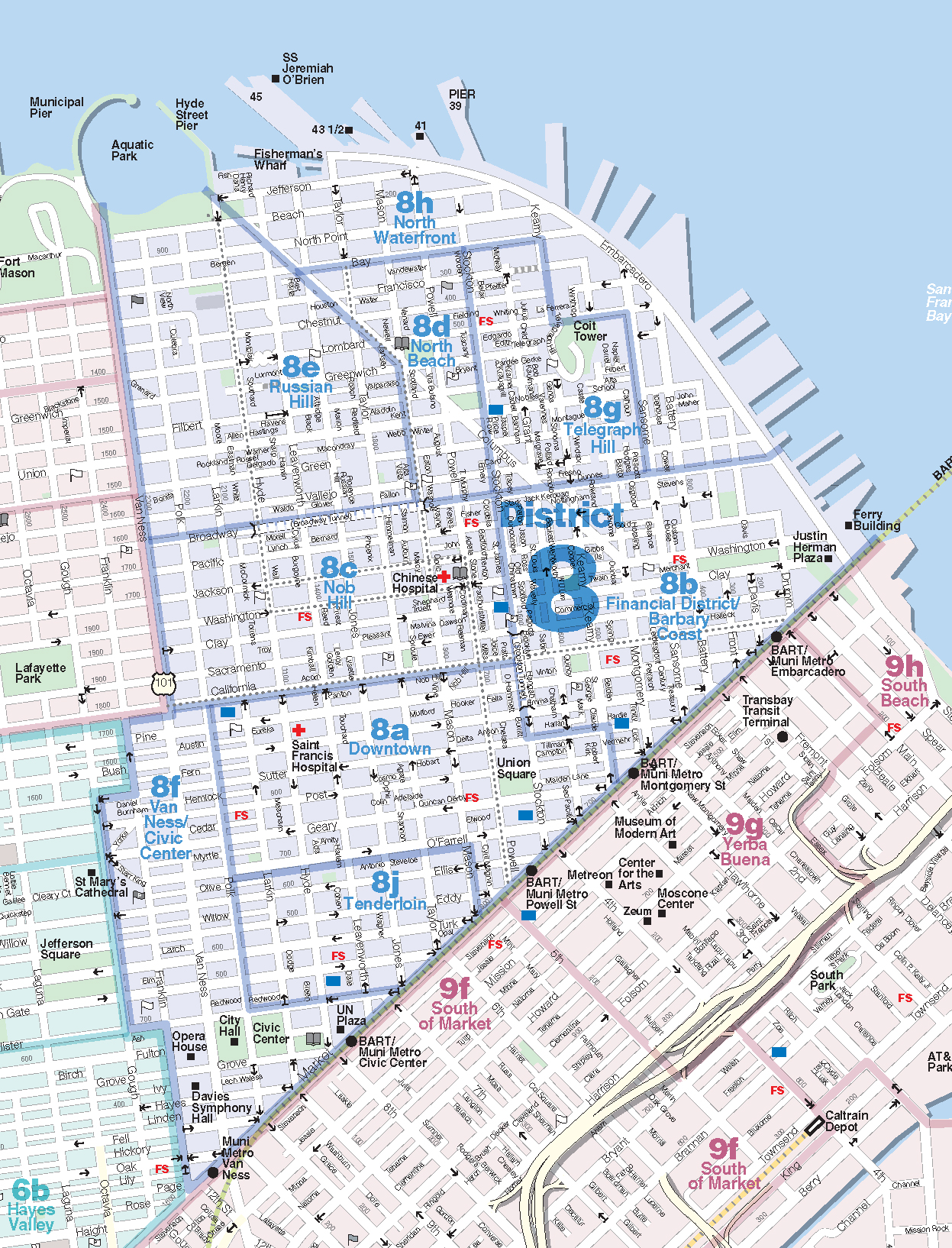 ---
About the District
Downtown/North Beach (District 8) Comprised of nine neighborhoods, District 8 is the heart of San Francisco's Downtown. It has the highest number of businesses, corporations, and banks within its borders than any other area in the city. Located on the northeastern tip of San Francisco, many of the areas in this district are commercial, but there are also several beautiful residential locations.
Downtown
Downtown San Francisco is a shopping hotspot, bordered on the north by Nob Hill, Civic Center to the west, Tenderloin to the south, and the Financial District to the east.
If District 8 is the heart of San Francisco, Union Square is the heart of Downtown. From this location, you are surrounded by massive buildings, beautiful architecture, upscale shops and numerous high profile restaurants. Because it is primarily a commercial area, most property options available here are luxury apartments and condos.
Real estate prices in Downtown San Francisco reflect the location and are on the higher end of property prices. However, if you are looking for lifestyle convenience and want to live in the heart of the city, this is the prime location.
Financial District
San Francisco's Financial District lies on the southern border of District 9, next to the San Francisco Bay. On its north side is Telegraph Hill, while Nob Hill and Downtown borders this neighborhood on the west side.
This area was once a sandy, marshy land which discouraged the first Spanish pioneers. Despite this, the area was finally settled in 1835. In the 1950's, the advancement in earthquake-proof building techniques brought many skyscrapers, which were only stopped by a "skyscraper revolt" against over-urbanization. Today, there is still a height restriction on all construction across the city.
As suggested by the name, FiDi is the main business district of San Francisco. One large advantage of living in FiDi is that your office likely to be only a few minutes away on foot. Aside from office buildings, there are also plenty of beautiful hotels, exceptional restaurants, and clubs.
For residents, real estate prices in the neighborhood are relatively high, as can be expected given the location. Residential buildings here are often new and modern, with plenty of luxury apartments, condos, and penthouses.
You won't find any public schools here in the Financial District. However, there are some colleges that have campus buildings in the area. Overall, the Financial District is a great place for singles, professionals, businessman, and tourists.
Nob Hill
Nob Hill is a beautiful neighborhood well known for its swanky hotels. It sits between Pacific Heights and the Financial District. The area borders Russian Hill to the north and Tenderloin to the south and is built on the hillside terrain previously known as the California Hills.
During the Gold Rush, Nob Hill was a prestigious neighborhood, where many successful prospectors built their homes. Unfortunately, almost all of these houses were destroyed in the 1906 earthquake. Despite this, Today Nob Hill boasts many of the city's best luxury hotels, historic buildings, residential homes, and commercial places. It also features many picturesque and well-loved locations such as the stunning Grace Cathedral and Huntington Park.
Most of the residential blocks in Nob Hill are located on the hillside, so be careful if you prefer a more gentle terrain. Many homes in the area are three to four story Victorian style houses which have been well-kept, retaining their traditional appearance but with newly remodeled interiors. There are also plenty of low rise condos which offer one to two-bedroom housing. Expect these condos to offer excellent building amenities like on-site management and concierge services. Living in a condo in Nob Hills means you have access to each building's facilities, which commonly include a health club with swimming pool, sauna, and gym.
The commercial spaces are mainly on Polk Street and Van Ness. As for schools or educational institutions, there are very few education facilities in the area. Overall, Nob Hill ranks high in terms of convenience, shopping, dining, and entertainment.
North Beach
North Beach is one of San Francisco's oldest neighborhoods. It is also known as SF's Little Italy and offers a plethora of cafes, Italian restaurants, pizza shops, and of course, gelato shops.
Unlike other neighborhoods, several parts of North beach were spared by the 1906 earthquake. Because of this, many beautiful and original Victorian-style homes can still be found in the area. Renovated and updated, many still retain their original charm and character of their age with their ornate columns, inviting porches, wide wooden floors, and manicured backyard spaces.
There are also plenty of apartments and condos in North Beach. These condos offer large, ample living spaces with open floors, 1-3 bedrooms, and modern features and amenities. Some condos and townhouses are newly built with others being remodeled historic commercial spaces.
There are two schools in the neighborhood - the Laura Vicuna Preschool and Francisco Middle School. You can also count the campus of San Francisco Art Institute, though it lies on the border with Russian Hill.
Russian Hill
Russian Hill is one of San Francisco's highest-rated neighborhoods. It sits on the east side of Marina District and Cow Hollow and bordered by Nob Hill to the south, North Beach to the east, and Fisherman's Wharf to the north. It is one of San Francisco's original "Seven Hills" and has some of the steepest streets in the city.
Russian Hill is a neighborhood filled with beautiful homes in a variety of styles. Many of the high-rise apartments near the top of the hill feature Spanish-colonial designs or art-deco friezes. There is also a mix of Victorian, Edwardian, and contemporary-style architecture found in the single-detached homes in the neighborhood.
There are plenty of condos, townhomes, and apartments in Russian Hill too. These typically offer 1-3 bedrooms and come with large windows to offer great views of the city, the Golden Gate Bridge, and the bay, thanks to the neighborhood's elevated location.
Civic Center/ Van Ness
Civic Center is located on the east side of Tenderloin and Downtown. It borders Lower Pacific Heights, Western Addition, and Hayes Valley to the west. To its south lies SoMa, and the two neighborhoods are separated by Market Street.
This neighborhood is primarily a commercial and cultural district. It is home to San Francisco's City Hall, Opera House, The Ballet, the Herbst Theatre, the Louise M. Davies Symphony Hall, California Public Utilities Commission, the SF Public Library.
Historically, the Civic Center was the location of the original city hall which was destroyed by the 1906 earthquake. A historic location, the City Hall's main plaza was turned to Army barracks during World War II and was also the scene of many rallies and protests during the Korean War.
The Civic Center has some residential places, mostly in the form of condos and penthouses that offer highly sought-after panoramic views of the city. These condos are 1-3 bedrooms with living spaces ranging from 500 sq ft to a 1,000 sq ft. There are also some studio-type residences that can be bought or rented.
Every Sunday and Wednesday, the Civic Center attracts many local residents and from the surrounding neighborhoods for the area's a farmer's market. There is plenty of budget-friendly fresh produce and great choices for other shopping and dining.
Telegraph Hill
Most recognizable for its Coit Tower and flowing gardens on Filbert Steps, Telegraph Hill is a beautiful, residential neighborhood that offers one of the best views of the city and the bay. This district lies to the east of North Beach, directly above Financial District, and south of North Waterfront.
This neighborhood is part of the original "Seven Hills" of San Francisco. Due to its location, the hill's crest became the site for an original semaphore, a structure with two arms that sent coded signals to the city government, indicating a ship's cargo before entering the port. When the electric telegraph gained popularity, the semaphore became obsolete, but the name Telegraph Hill remained.
Today, you'll find a plethora of home styles in this neighborhood. There are many historic cottages, mid-20th-century style homes, apartments, and condominiums, most of which offer picturesque views of the bay. Due to the location, most homes in the area have been built into the steep slopes and offer these great views.
There are very few schools in this area. However, there are several shopping places on Bay Street and Stockton Street. If you want to be in the city but also crave exceptional views, Telegraph Hill is one of the most suitable neighborhoods.
North Waterfront
North Waterfront (also commonly known as Fisherman's Wharf) is a commercial district more than a residential neighborhood. It is a well-known tourist attraction and there are plenty of shops that sell tourist items like t-shirts, caps, and many other knick-knacks. It has a carnival atmosphere complete with a Ripley's Believe or Not museum, a wax museum, and the San Francisco Maritime National Historical Park.
This neighborhood is also home to the famous Pier 39, where you can get a great view out over the water and of the sea lions. There is also a good deal of amazing seafood dining restaurants in this area, taking advantage of the local seafood.
Housing in North Waterfront is primarily in the form of luxury condos, studios, and apartments in low rise buildings. These property options commonly offer beautiful finishes and feature 1-3 bedrooms with bright and airy living spaces. The residential buildings offer amenities like 24/7 doormen and swimming pools.
Tenderloin
Tenderloin is a small wedge-shaped neighborhood that borders Downtown to the north, the Civic Center to the west, and SoMa to the east. It is close to San Francisco's main shopping destinations, important government offices, and best performance theaters.
This neighborhood was named after the same in New York City. Previously a downtown residential community in the mid-1800's, in the 19th century the area became the scene of active nightlife. In the mid-20th century, the area provided plenty of work opportunities for musicians in this neighborhood's long line of bars, restaurants, clubs, and theaters. Today, many of these buildings are still occupied by similar businesses.
Tenderloin is comprised primarily of apartment buildings with a studio or a 1-2 bedroom apartment layout. Several historic buildings have been converted to residential lofts and apartments with a couple of bedrooms at most.
While the neighborhood has had a challenging reputation, it is alive with many businesses and shops. There are many amazing restaurants and the "family-diner" style is popular in the neighborhood. However, note that there are no educational institutions in this neighborhood.
With Tenderloin's affordable housing costs, it is a popular location for singles and professionals.