SOMA/Bernal/Dogpatch/Portola Homes for Sale
Included below are homes for sale in SOMA/Bernal/Dogpatch/Portola. If you would like more information on any of these SOMA/Bernal/Dogpatch/Portola real estate listings, just click the "Request More Information" button when viewing the details of that property. We can provide you with disclosures, past sales history, dates and prices of homes recently sold nearby, and more.
And, if you haven't already, be sure to register for a free account so that you can receive email alerts whenever new SOMA/Bernal/Dogpatch/Portola listings come on the market.
Jump To: Neighborhood Information
SOMA/Bernal/Dogpatch/Portola
December 5, 2023
$1,091.40
Avg. $ / Sq.Ft.
$1,395,000
Med. List Price
SOMA/Bernal Heights/Dogpatch (District 9)
Available homes follow neighborhood map and neighborhood info...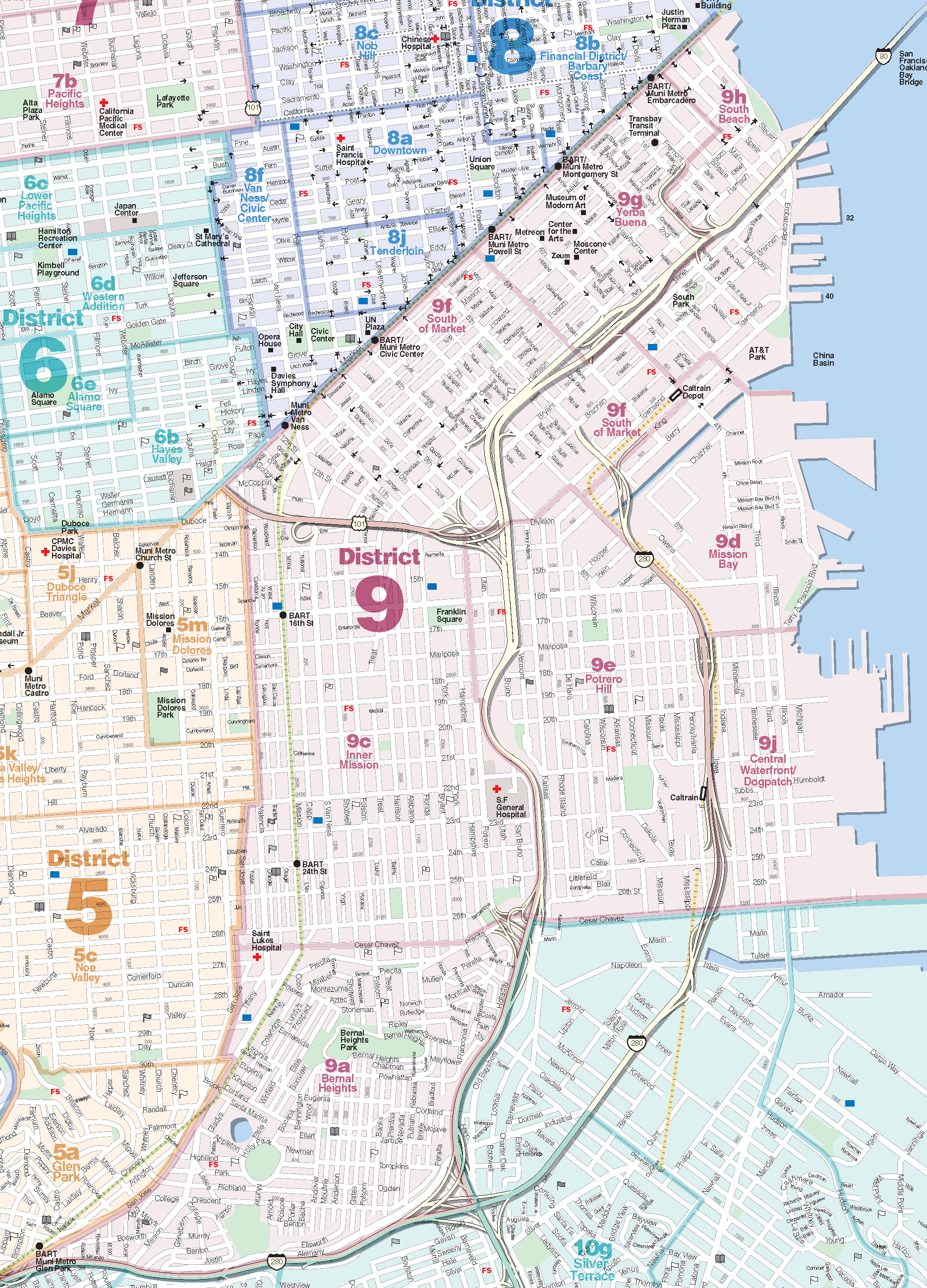 ---
About the District
District 9 is composed of SoMa, a large neighborhood with several sub-neighborhoods, Bernal Heights, and Dogpatch. There are eight established communities within District 9 - Bernal Heights, Inner Mission, Mission Bay, Potrero Hill, South of Market, Yerba Buena, South Beach, Central Waterfront/Dogpatch.
Each neighborhood has its own unique identifying features which set them apart from each other. Some neighborhoods of District 9 are residential, others are partly commercial and partly residential. The SoMa and Yerba Buena neighborhoods are mainly commercial neighborhoods that offer not just beautiful buildings but also wonderful museums and parks.
Bernal Heights
Bernal Heights is located at the southern edge of the Mission District and is a quiet and peaceful residential area. Had it not been for the San Francisco views on Bernal Hill, you may not even notice you are in busy San Francisco as the neighborhood is reported to have the feel of an established neighborhood more similar to the East Coast.
Historically, Bernal Heights was previously part of a Mexican ranch. When California became a U.S. state, the slopes were divided among European immigrants, leaving the top of the hill as communal pasture.
Today, this neighborhood features quiet residential streets with colorful homes among many green spaces. Many of the homes were built in the early to mid 20th century, and are in the bungalow-style with gardens. You can also find modern condos and apartments in the area.
There are two prominent features in Bernal Heights. Courtland, the main street, has a diverse range of restaurants and boutiques. For a relatively quiet neighborhood, this is the only part of Bernal Heights where you will experience some traffic. Bernal Hill is also one of the favorite places of residents and even non-residents to visit because of the great view of San Francisco. Try climbing the hill yourself and enjoy a 360-degree view of the city.
There are several schools in this community. Paul Revere and Leonard R. Flynn are both public schools, while St. Anthony's Immaculate Concepcion is a private Catholic school. There's also one hospital in Bernal Heights - the California Pacific Medical Center.
This neighborhood is ideal for everyone from growing families, professionals who prefer a quiet and peaceful place, to retirees wanting to enjoy a quieter neighborhood.
Inner Mission
Inner Mission is neighborhood bordered by Mission Dolores to the west, Highway 101 to the north, and Cesar Chavez to the South.
When the Spanish missionaries arrived in the late 18th century, this area was inhabited by Ohlone people until it was divided into ranches by the Spanish occupants. During the Gold Rush era, the town expanded housing areas for migrants, including the Irish the early 1900's, Now in the mid 90's, the area has become home to thousands of Central American migrants, creating a vibrant Latino community in San Francisco.
Today, Inner Mission is known as a hip district, and a residential community with plenty of shopping, dining options, and a great nightlife. It has a good mix of housing options where prices are more affordable than its neighboring communities. There are single detached homes, condos, and apartments, most of which are newly built.
Overall, Inner Mission's history is reflected by the neighborhood and its residents. It's a diverse mix of people from different countries all who have made a home and community in San Francisco. In the neighborhood there many local mom and pop shops and restaurants. Some residents mention you will never go hungry in Inner Mission, especially if you love Mexican food.
Inner Mission is an ideal neighborhood for singles, couples, families with kids who enjoy a culturally rich and diverse community.
Mission Bay
Mission Bay is bordered by Townsend Street on the north and Mariposa Street on the south. Its proximity to Caltrain, I-80, and I-280 make it one of the sought after neighborhoods in San Francisco. Commuting from this neighborhood is convenient and easy, especially if you're working in Silicon Valley.
Another advantage of living in Mission Bay is its weather. Its unique location along the Bay means it is often protected from chilly ocean winds and fog.
Regarded by many as an up-and-coming neighborhood, Mission Bay is primarily a residential area of condos and apartments, with some vacant lots. For now, it is the new home of California's Stem Cell Research headquarters and UCSF Mission Bay Campus. There are also several other biotech companies in the area. More development plans are being drawn up so expect Mission Bay to be continually developed in the near future.
Aside from the large companies, many people visit the neighborhood for the AT&T park right beside Mission Bay. The community becomes a large parking lot on days when AT&T Park hosts concerts and games.
Note, there are no public schools in this neighborhood. However, UCSF does provide child care for kids 3 to 5 years old on campus.
If you prefer to live in condos or apartments, and you're looking for a convenient place to stay close to Silicon Valley, consider Mission Bay. This area is ideal for young families, professionals, and mature individuals who enjoy close proximity to the Valley.
Potrero Hill
Potrero Hill is a residential community located between Interstate 280 and Highway 101. Family friendly, peaceful, and with great views, Potrero Hill is considered a great place to live. In fact, many say Potrero Hill has a strong suburban feel, and though you are within the city when you visit this neighborhood, you'll feel as if you've stepped away from the regular hustle and bustle of the city.
Previously, the area was a grazing pasture in the late 1800's and was turned into an industrial area in the 1880's. Historically, the neighborhood was the scene of many disturbances and rallies, however, the neighborhood has drastically changed due to the growth of technology companies in the area. Many professionals also reside in this area due to its proximity to SoMa and the Financial District.
Home styles in this neighborhood are just as diverse as its population. You can find all sorts of homes in this area, from historic homes to single-family townhouses and condos. Many homes have garages so expect car parking to be a little easier.
There is also a good selection of restaurants, bars, and shops, especially on the northern side. For rest and relaxation, visit the recreation center, Jackson Park or take a walk along the waterfront.
There are two public elementary schools in this neighborhood - the Starr King and Daniel Webster. There is also a local independent elementary school named Live Oak School. International Studies Academy is an alternative junior high school. Potrero Hill is also home to California Culinary Academy, San Francisco Center for the Book, California College of the Arts, and American College of Traditional Chinese Medicine.
Potrero Hill is a great community for young couples, families, and professionals who work near the area.
Central Waterfront/Dogpatch
Central Waterfront/Dogpatch is a small rectangle of blocks and buildings that are half residential and half industrial. Located in the southeastern part of the city, it borders Potrero Hill on the west and San Francisco Bay on the east.
This historical neighborhood was once a dockside and shipbuilding area. Over time, many of the large warehouses have been converted into spacious lofts, art galleries, and shops as its location to the Bay provides many homes with an amazing waterfront view.
There are no schools in this area, but there are several bars and restaurants. The nearby Potrero Hill offers you more options and by living in Central Waterfront you are always close to Downtown San Francisco and the financial districts.
This area is ideal for single professionals who work in Downtown San Francisco or the financial district.
South of Market
South of Market, or SOMA as it is more commonly called, is located in the northern area of San Francisco. It is a large commercial district, slotted just next to Downtown. It is composed of clusters of warehouses, bars, museums, luxury condos, residential hotels, tech companies, and showrooms.
Historically the area was an industrial center, but the fire and earthquake of 1906 left many of the warehouses empty. In an attempt to save the buildings from being destroyed, the neighborhood was remarketed as lofts - a place where artistic communities can work and live. Because of this, you will be hard pressed to find any single-family homes in SoMa
SoMa is well - known for its nightlife also has eating and dining options from all cuisines. There are also many bars, coffee shops, and shopping places. There is also a recreation center - Gene Friend/SoMa Recreation Center.
This area has one public school - the Bessie Carmichael/Fec Elementary School, so families with young children may find more suitable housing in neighboring areas. Overall, the South of Market neighborhood is ideal for singles, artists and young professionals.
South Beach
South Beach is a busy neighborhood that lies across the Bay, bordering The Embarcadero and 3rd Street. It is home to AT&T Park and the San Francisco Giants stadium. During games, you will see plenty of visitors in orange.
This neighborhood was one of San Francisco's first neighborhoods, filled with large homes sitting on the hill of Rincon. Eventually, the area fell into decline and the 1906 earthquake and fire destroyed much of the neighborhood. In the early 20th century, the area was then rebuilt as a warehousing and industrial district. Today, the northern side is slated for development, while reconstruction has already begun on the southern side of the area.
For housing in South Beach, this area features plenty of luxury condos and apartments. Note, however, that many condominium buildings are still being constructed so as the area is experiencing significant development.
There are no public schools in South Beach, but there is a preschool/daycare center on Harrison Street, making the area a little less desirable for established families but open for new families with young children.
Overall, South Beach is a developing neighborhood that is suitable for professionals.
Yerba Buena
Yerba Buena a predominantly commercial neighborhood that borders Market St on the northwest, 3rd St on the northeast, 5th St on the southwest and Harrison St on the southeast. This 5.5-acre neighborhood is an urban center home to the Yerba Buena Gardens, The Moscone Center, the San Francisco Marriott Marquis, and the San Francisco Museum of Modern Arts.
Its central location in the city makes it a convenient location for many shops, restaurants, and theaters. However, you will be unlikely to find any single homes in Yerba Buena. There are plenty of hotels that offer comfortable to luxurious accommodations, some of which may offer real estate opportunities from time to time.